All-in-one tools for your business just a click away
Boost your website's online performance and visibility with our comprehensive platform. Get in-depth insights into website traffic, ranking, and SEO with powerful analytics, keyword tracking, and backlink analysis.
Free plan available · No credit card required
Session Capture and Replay
Structured Data Generator
more tools to be added in the future
Trusted by product teams across the globe
Essential metrics reporting
A clean view of the metrics your business lives by
Swilty helps you to make informed decisions by collecting events and metrics and providing retrospective analysis. You can monitor all user behaviors, both expected and unexpected, to see which ones help your business to grow.
Visitor
USA
Zero performance impact
Enhance user adoption with Session replay.
Session Capture and pixel-perfect Session Replay. Get an accurate visualization of user onboarding and adoption. Reveal areas of confusion and decrease bug reproduction time.
Heatmap Visualization
Tracking heatmap, and find out where people are really looking.
See where your visitors are looking and what parts of the site they're reading by visualizing their mouse movements and clicks. Immediately see what's working and what isn't. Figure out which  area visitors are clicking more.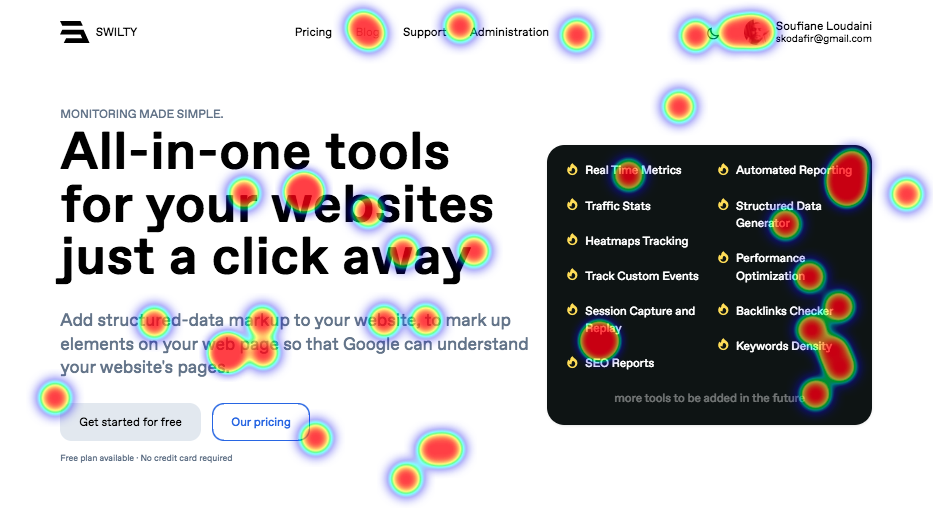 Focus your growth
Use Swilty's tools to boost your customers bottom line
Websites records sessions and heatmaps show you where and how to grow your customers' experience. Meanwhile, the retention reporting tools help you stop churn in its tracks.
For multiple-page or single-page apps, iframes (same & cross-origin) and pop-ups too.
Swilty is incredibly fast and lightweight. There is no impact on page loading and bandwidth.
Captures all interactions on a page without affecting the look and feel of your app.
Everything great websites need
Deliver a better experience on your website with our worth value tools.
Measure your website traffic
View your website visitor stats in real time. A delightfully simple dashboard summarizes your most important metrics.
Filter and breakdown
Need to drill down? You can click on any metric to filter by it. For example you can filter for pageviews from a specific country, page, browser and more.
Compare metrics over time
Want to compare any two metrics? We've got you covered. For example you can correlate increased page load times with the visit duration.
Download/ import you data
Download your .CSV data and use it on third parties like Google excel.
Keep your website fast
Our analytics script loads blazingly fast all around the world, it's super lightweight and will never slow down your site.
Websites SEO reports
Overview of important SEO metrics reflecting business growth, performance in search engines, backlink portfolio strength, and website health.
missing_translation: layout.keywords_checker
Calculate ideal keywords Density percentage for SEO, since it can have a direct impact on your site content's visibility in search engine results pages.
Structured Data creator
Add structured-data markup to your website, to mark up elements on your web page so that Google can understand your website's pages.
Get email reports
Get a summary of your website stats delivered straight to your inbox. You can configure to receive the report on a weekly or monthly basis.
Level up with real-time metrics and performance insights
Get powerful, out-of-the-box features helping you track your website growth in real-time
Free plan available · No credit card required